Did you know that Frigiliana is one of the most charming villages in Spain? This town in Malaga is capable of seducing the visitor with the most diverse charms: nature, culture, fiestas, gastronomy… Why don't you come with us to get to know it better?
The town of Frigiliana in Malaga is one of the towns that best represents how good it is to live on the Costa del Sol. Not in vain, it has an unquestionable tourist attraction, to the point of being highly recommended for real estate investments.
Frigiliana: a paradise between the sea and the mountains.
This small municipality in Malaga is one of those places with a privileged location. It is located in the heart of the Sierra de Almijara mountain range and is very close to the Mediterranean Sea. Thus, the charms of the sea and the mountains merge to create one of the most sought-after tourist destinations on the Costa del Sol.
Located in the Natural Park of the Sierras de Almijara, Tejera and Alhama, this town in the Axarquia region of Malaga is bordered by no less beautiful villages. Such is the case of Nerja (16 km to the south) and Torrox (14 km to the west).
Frigiliana is a municipality particularly representative of the idyllic image we all have of the typical Andalusian villages. In fact, its little houses painted in radiant white and bathed in dazzling sunshine are one of its most characteristic signs of identity.
A good example of the unquestionable attraction of Frigiliana is the numerous awards it has received for its uniqueness and beauty. In particular, this village in Malaga is one of The Most Beautiful Villages of Spain(a club to which only 104 of the more than 8,000 Spanish municipalities belong).
With a pleasant climate and excellent communications, the municipality of Frigiliana is a real magnet for tourism and entrepreneurship. Not surprisingly, a large part of its population is of foreign origin, with people of up to 20 different nationalities having been registered on the census.
What to do in Frigiliana?
Frigiliana is, by all accounts, an Andalusian village that captivates everyone who visits it. In fact, here you will find all kinds of activities to enjoy life: from relaxing surrounded by lush nature to tasting exquisite local dishes. Ready to experience an intense pleasure with each of your five senses?.
Sun and beach: the Axarquia in its purest form.
It is no secret that the climate in Malaga is ideal for enjoying the beach all year round… and Frigiliana is no exception. In fact, this town has an average temperature of 18ºC and hardly any rainfall. So it's no wonder it's one of Europe's favourite destinations for a golden retreat.
Some of the closest beaches to this Malaga town are: El Playazo, Güilche, Burriana, Carabeo and El Chucho. All of them belong to the municipality of Nerja, but are less than 15 minutes by car (or 30 minutes by bike) from Frigiliana. In fact, the Balcón del Mediterráneo (located in the Plaza de las Tres Culturas) offers magnificent views of the sea. The Balcón del Mediterráneo (located in the Plaza de las Tres Culturas) offers magnificent views of the sea.
Cultural Frigiliana: a date with History.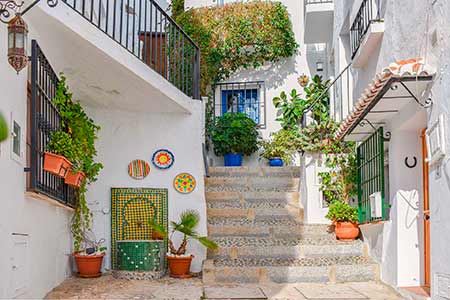 Frigiliana's historical and cultural legacy is one of the richest and most interesting in the whole of Malaga. In fact, this town is famous for treasuring the valuable legacy of the Three Cultures, since, at the end of the 15th century, Christians, Jews and Muslims lived here. This mosaic of civilisations is reflected in several of its monuments and neighbourhoods.
A walk around the old quarter of this town in Malaga is enough to see what makes it so special. Good examples of this are the Barribarto neighbourhood and the emblematic Calle el Zacatín. The peaceful atmosphere and the magic of its corners take us back to past times.
Walking through the steep and winding streets of this municipality is an unforgettable experience. The magnificent two-tone cobblestones and flower-filled trellised balconies exemplify its undeniable charm. It is not for nothing that this little mountain village has received several awards for the strict maintenance of its town centre.
Some of the most important Frigilian monuments are: the Fuente Vieja (17th century), the castle of Lízar (9th century), the Casa del Apero and the church of San Antonio (15th century). Likewise, the Mudejar quarter of the old quarter, the Church of San Pedro and the very ancient archaeological remains are also a must for any lover of history.
A perfect destination for lovers of rural tourism.
Any ecotourism enthusiast knows that the Villa de las Tres Culturas is a rural destination like no other. In fact, being a mountain village close to a Natural Park and with a magnificent river flowing through its territory, it is easy to imagine the kind of scenery that awaits us.
This Malaga town invites us to discover its subtropical fruit farms (such as mangoes and avocados) as we approach the Sierras de Tejeda, Almijara and Alhama Natural Park. There we can enjoy a sumptuous landscape full of pines, oleanders, palmettos and honeysuckles.
The mountainous location of Frigiliana in Malaga makes it a perfect place for hiking. Not in vain, its orography provides numerous routes for all tastes: long and short, for experts or beginners…. Some of the best known are: the Lomas del Chillar, Venta Cebolleros and El Fuerte.
One of the most popular hiking routes is the one that leads to the village of Acebuchal. This is a very easy trail that allows us to enjoy one of the best restaurants in the area. Experienced mountaineers, meanwhile, can try their hand at climbing the challenging Pico del Cisne.
Much of the natural attraction of the hiking trails in this municipality of Malaga is due to its mountains dotted with refreshing pools. The same is true of its thick pine forests where squirrels and mountain goats roam free.
One of the best summer experiences you can have in this municipality of La Axarquía is swimming in the Higuerón river. Imagine for a moment what it is like to submerge yourself in its crystal clear waters while listening to the sound of the waterfalls and contemplating the exuberant nature that surrounds you.
From shopping around this little piece of the Costa del Sol.
Frigiliana is, without a doubt, an ideal place to buy artisan products while strolling through its narrow streets. Not surprisingly, the shops in the old town offer unique samples of products made from: esparto grass, ceramics, painted glass, wax, clay, wood and wool. One of the most typical handicrafts is the so-called calabazas de agua: a unique water jug traditionally used by shepherds.
This village has an intense commercial life and provides the perfect setting to buy all kinds of typically Andalusian handmade souvenirs (jarapas, fridge magnets, crockery, etc.). They also offer a wide range of gastronomic products (local wine, sugar cane honey, olive pâté, etc.).
Keep the party going! .
The municipality of Frigiliana in Malaga is also well known for its popular fiestas. In particular, its Festival of the Three Cultures, which takes place at the end of August and offers: concerts, exhibitions, performances and a medieval market.
As is usual in Andalusian towns, carnivals and religious festivals occupy a prominent place in the festive calendar of this town. Such is the case of the Day of the Cross (3 May) and Easter Week. The patron saint fairs in honour of San Antonio (13 June) and San Sebastián (20 January) are also eagerly awaited by locals and visitors alike.
Although it is a quiet town, perfect for relaxing in the middle of nature, the truth is that this town in Malaga offers a vibrant cultural and leisure agenda.Thus, events and exhibitions abound throughout the year. The same is true of its wide range of bars, pubs and cafés, perfect for drinks and tapas.
Gastronomy in Frigiliana: one of the most exquisite in Andalusia.
The most popular dishes in the Villa de las Tres Culturas are: fried kid in almond sauce, roast kid (very typical of the Axarquia region of Malaga) and migas (fried breadcrumbs). Also not to be missed are the fabulous vegetable or cod stews (at Easter to respect Lent).
The gastronomy of this town in Malaga is full of recipes that use the local sugar cane honey as one of its main ingredients. Typical Frigilian dishes such as fried aubergines or the tasty local pastries based on marcochas and arropía are a good example of this. The same can be said of its innovative jams and marmalades or its traditional chocolates.
Any of Frigiliana's dishes is a perfect excuse to try the olive oil made from its local olives. In addition, it is worthwhile to wash down its gastronomic delights with the exquisite muscatel wine produced by its vineyards or with its award-winning craft beer Pale Ale La Axarca.
Some of the best restaurants for sampling these viands are Taberna del Sacristán, Las Chinas, La Bodeguita, or El Casino. Any of them is ideal for pampering your palate with typical Frigilian dishes for a really affordable price.
As is to be expected in a town as touristy and cosmopolitan as this one, it is easy to find an incredibly wide gastronomic offer. In fact, the best national and international dishes are served here.
Is it a good idea to buy real estate in Frigiliana?
How is the real estate market in Frigiliana?
Whichever way you look at it, the municipality of Frigiliana in Malaga represents a valuable real estate opportunity. In fact, this area is attracting increasing interest due to its excellent characteristics:
Magnificent natural environment: surrounded by mountains and with sea views.
It is an attractive area, but not overcrowded (which increases the value of the real estate).
Profitable options for economic entrepreneurship in all types of sectors (commerce, hospitality, agriculture, residential, etc.).
Great tourist offer which attracts a large number of Spanish and foreign residents.
Real estate offer highly competitive, both in terms of location and the type of properties available (villas, cortijos, flats, rural houses, etc.).
The best areas to buy a property in this town in the Axarquia region of Malaga are the Cortijo San Rafael and La Molineta. The first of these is an exclusive urbanisation located in the mountains and surrounded by vegetation. The second is a small village that has adapted its old facilities to meet the most demanding tourist demands.
In short, this Malaga municipality has a wide range of real estate properties to suit all kinds of profiles. Thus, from foreign citizens who want to enjoy their retirement on the Costa del Sol to businessmen who want to make a profitable tourist exploitation, they will find here their ideal destination.
7 Unmissable opportunities to invest in this town in Malaga.
An exclusive mansion with the best views.
If you are looking for a dream home in a privileged location, this magnificent villa with views of the sea and the Natural Park is just what you need. In fact, its 2,300 m2 plot has every possible luxury (barbecue, private swimming pool, garden and even an independent flat).
A centrally located, fully equipped restaurant.
Would you like to set up a thriving business in the very heart of Frigiliana' Then, you cannot miss the opportunity that this restaurant with magnificent views located at the top of the old town of Frigiliana offers. Not surprisingly, it has all kinds of amenities to facilitate its operation (such as a lift for loading goods, an electric generator and a water tank).
A country house to disconnect.
Imagine for a moment the peace of staying in a cosy cottage in the middle of nature. This is precisely what this country house with mountain views is all about, with two floors and fully equipped. Special mention deserves its large plot of 1.589 m2 provided with everything necessary to enjoy the open air(terraces, private swimming pool, barbecue area, etc.).
A centrally located flat with views.
Contemplating the mountains from the enormous terrace of this central apartment is a real treat. Its excellent qualities and easy access make it ideal for enjoying all the possibilities that the Villa de las Tres Culturas has to offer, and how convenient it is to have all the services of this Malaga town at your fingertips!.
Urban plot in one of the best areas of Frigiliana.
Would you like to build your dream house with sea and mountain views in the most VIP area of Frigiliana? In that case, do not miss this urban plot los Cortijos San Rafael of 1.502 m2 to build a villa exactly according to your needs.
A 100% productive agricultural estate.
Did you know that mangos are one of the most profitable crops in Spain? This productive farm is working at full capacity and in its 33,000 m2 plot there are more than 1,350 trees planted which produce different varieties of mango. In addition, it has a farmhouse and a tool shed. It also has a farmhouse and a tool shed.
A luxurious housing estate in Cortijos de San Rafael.
This villa with 3 independent houses presents many possibilities that are worth exploring. So you can easily join them together to form a sumptuous 500m2 mansion or exploit them individually. Whatever you decide, you won't regret it.
Where to find the best properties in Frigiliana in Malaga?.
As we have seen, there are many reasons to consider Frigiliana as one of the best corners of the Costa del Sol to buy real estate. However, in order to take full advantage of all its possibilities it is important to choose the right real estate agency to work with.
Any expert in this type of investment knows that it is best to choose a real estate agency specialised in the area of Nerja and surroundings. In this way, we will get experienced and reliable advice about the areas that best suit our needs.
Due to the restrictions imposed by the coronavirus, it is also important to choose an estate agency that has a strong online presence. Ideally, it should provide potential buyers with complete information and a wide range of graphics (professional photos, videos, virtual tours, etc.).
All these features and a wide portfolio of properties located in the best locations in Frigiliana can be found in Plaza Estates. Our real estate agency has made customer satisfaction its raison d'être, which is why we have highly qualified staff to find the perfect property for you.
With a dreamlike landscape and a rich cultural offer, Frigiliana has everything to delight the most demanding visitors. So, the best way to make the most of this town in Malaga is to invest in one of the properties included in the Plaza Estates catalogue. Shall we talk?